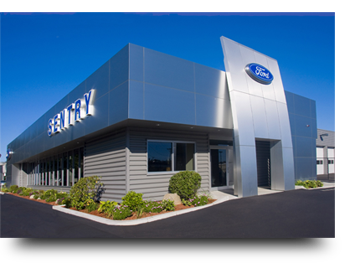 Fraser Lemley, founder and CEO of the Sentry Auto Group, started in the car business at the age of 17 at a dealership in northern New Jersey. His first job was to stock parts into inventory and to drive a truck delivering parts to wholesale accounts. Over the course of his 10 years in various positions in that parts department, he helped create the largest wholesale parts operation in the New York metro area.
After 10 years, he wanted to expand his career by going into sales. The dealership's owners told Fraser that he was doing too good a job in the parts department for them to let him go into sales.
To get them to give him an opportunity, he had to threaten to quit before they agreed. But they told him very clearly that in sales he would have to succeed on his own, and that his tenure with the company would not give him any extra leeway for failure. As Fraser puts it, "Around the same time, I got married, my son was born, and I went back to school to get my college education at night. So there was a lot going on, and a lot of pressure to succeed."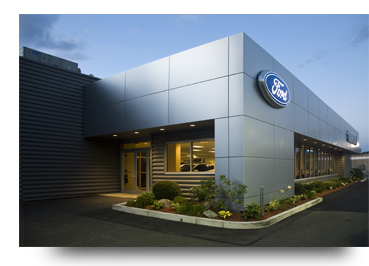 Fraser did go into sales, and discovered that "I liked it, and people liked to do business with me. The most difficult time I had in sales was the first 30 days, because I was being taught by other car salesmen to be the stereotype of a car salesman - deceitful and evasive with customers, which was NOT what I had been when I was in the parts department. I had a conversation with a friend who gave me some very sound advice though it might sound clichéd - be myself and treat customers as if they were personal friends." Following that advice, he quickly became the top salesman in the dealership and eventually Salesman of the Nation for Lincoln-Mercury in the early 70s.
Now that Fraser had a background both in parts & service and sales, he decided he would like to figure out how to become a dealer. At the time, Ford Motor Company had a program called Dealer Development where Ford created a partnership with people who Ford felt were good dealer candidates but did not have enough money to fund it from personal assets.-
As Fraser describes it, "My problem was where to get my share of the partnership. Lots of people work hard and lots of people are good at what they do. In my case, it helped to have a very happy customer and a little luck. My first month in sales, in 1969, I met a woman who came into the dealership who all the other salesmen had ignored because she had a fairly unusual request: she wanted to buy a customized Lincoln limousine. Today that's not so unusual, but at that time the dealership had never sold one, and trying to sell one was a lot of work - you had to find a coach-builder, get all the specifications and pricing, and so on. And I said to her, 'I don't know if it can be done, but I'll find out.' I called her back and said, 'We can do it, but I have to get it from Chicago, and it will be four times the price of the average Lincoln.' She said, 'OK, would you like a check?' It turned out she was one of the heirs to the founder of a Fortune 500 company."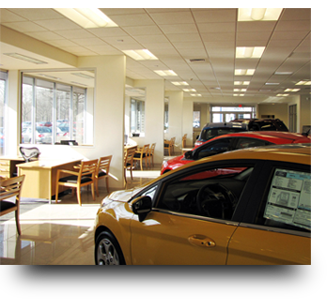 "Six years later, I was looking for a place to live, I happened to mention it to her one day, and she said that her daughter was moving out of the area, and would I like to buy her house? I went to look at it, and we wound up buying the house."
A few years later, Fraser was able to use the equity in that house to convince Ford Motor Company that if a dealership became available, he would be able to come up with his share. For several years, he looked at potential acquisitions, but it wasn't until the recession in the early 80s that a dealership came along that was both attractive and priced right. In 1981, he sold the house in New Jersey, moved to Boston, and used the proceeds to buy Sentry Lincoln-Mercury in Medford in partnership with Ford's Dealer Development program. He was able to buy out Ford's interest in Sentry Lincoln-Mercury in 1985, six years ahead of schedule.
In 1988, Sentry expanded to the Used Car Center and Fast Lube Center at 305 Mystic Avenue. The huge success of Sentry's new car business had created a need for a first-class location to retail the many high-end trade-ins that the dealership was receiving.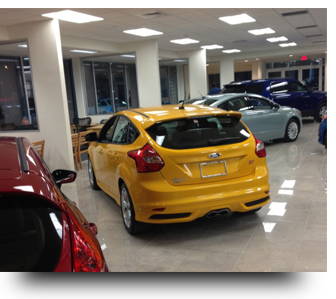 In 1992, Ford approached Fraser about taking over the Ford dealership that was then Wellington Circle Motors. While apprehensive because of the dealership's financial condition, he was excited about the chance to add the Ford franchise. In addition to adding Ford, this acquisition also began a journey for Sentry as an organization, from a single dealership into an auto group. In August 1992, Chris Lemley left his job as a management consultant to join Sentry full-time, primarily to help in the acquisition and turnaround of the Ford store. In October 1992, the Ford deal was completed, again as part of the Dealer Development program, and within two years the dealership was turned around.
In 2002, Sentry had the chance to add Lincoln and Mazda out in Shrewsbury, MA, also as part of a turnaround situation but this time with a brand new store that had been open less than a year. Sentry West Lincoln and Sentry West Mazda have been serving the communities near Worcester ever since.
We are particularly proud of the longevity of our team members. As of this writing, the average tenure of our sales managers is 17 years. In service it's 12, and in parts it's 19. Compare that to any of our competitors. We think it should matter to you that the person with whom you're choosing to do business will be there when you need help in the future.
From a historical standpoint, as for now, that's pretty much it. As Fraser says in the Sentry Video, "We are proud of who we are and what we do. That's not something you hear every day in the automobile business."
In addition to taking care of our employees and customers, Sentry has a corporate goal to support worthy causes in the communities where we do business, primarily involving children and families fighting poverty and homelessness. Each year, we donate a percentage of profits from Sentry Auto Group sales to nonprofit organizations that are working in these areas.